Opteon Named 2023 Tech100 Winner by HousingWire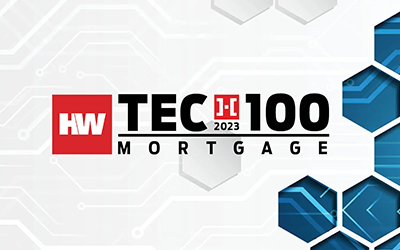 HousingWire has announced the 2023 Tech100 honorees, recognizing the most innovative technology companies in the housing economy. Each year the Tech100 program has continued to expand and the applicants increase in caliber and innovation as the demand for technology in housing continues to progress. For the 11th year, the Tech100 program provides housing professionals with a comprehensive list of the most innovative and impactful organizations. Opteon is proud to announce we have been recognized as a 2023 Tech100 award winner!
From HousingWire:
With a proven recipe for success in Australia and New Zealand, Opteon is leading the charge to combat the issue of long turn times and completely revolutionize the appraisal industry. Opteon's mission is to transform appraisals in the U.S. from an antiquated process to one based on technology. This will result in fast, accurate and tech-driven appraisals. Opteon knows the solution begins with the client experience, which relies heavily on the appraiser's experience.
In collaboration with their technology partner, Ascent Software Group, Opteon is working to revolutionize how it elevates the customer and appraiser experience, creating impactful, measurable, improved processes through the prop tech solution suite of products, Jaro. The Jaro technology determines areas ripe for modernization and innovation within the appraisal process. Opteon's technology is built on data and metrics and has seen an uplift in nearly every quantifiable data point since implementation. With Jaro's technology, every action is measured. The data collected is then used to optimize the business and identify any gaps in the process to refine them. This technology can help eliminate many time-consuming actions which in turn creates more value for Opteon and its clients.
See the full list of winners here: 2023 Tech100 Winners