Apex Announces New Additions to Executive Leadership Team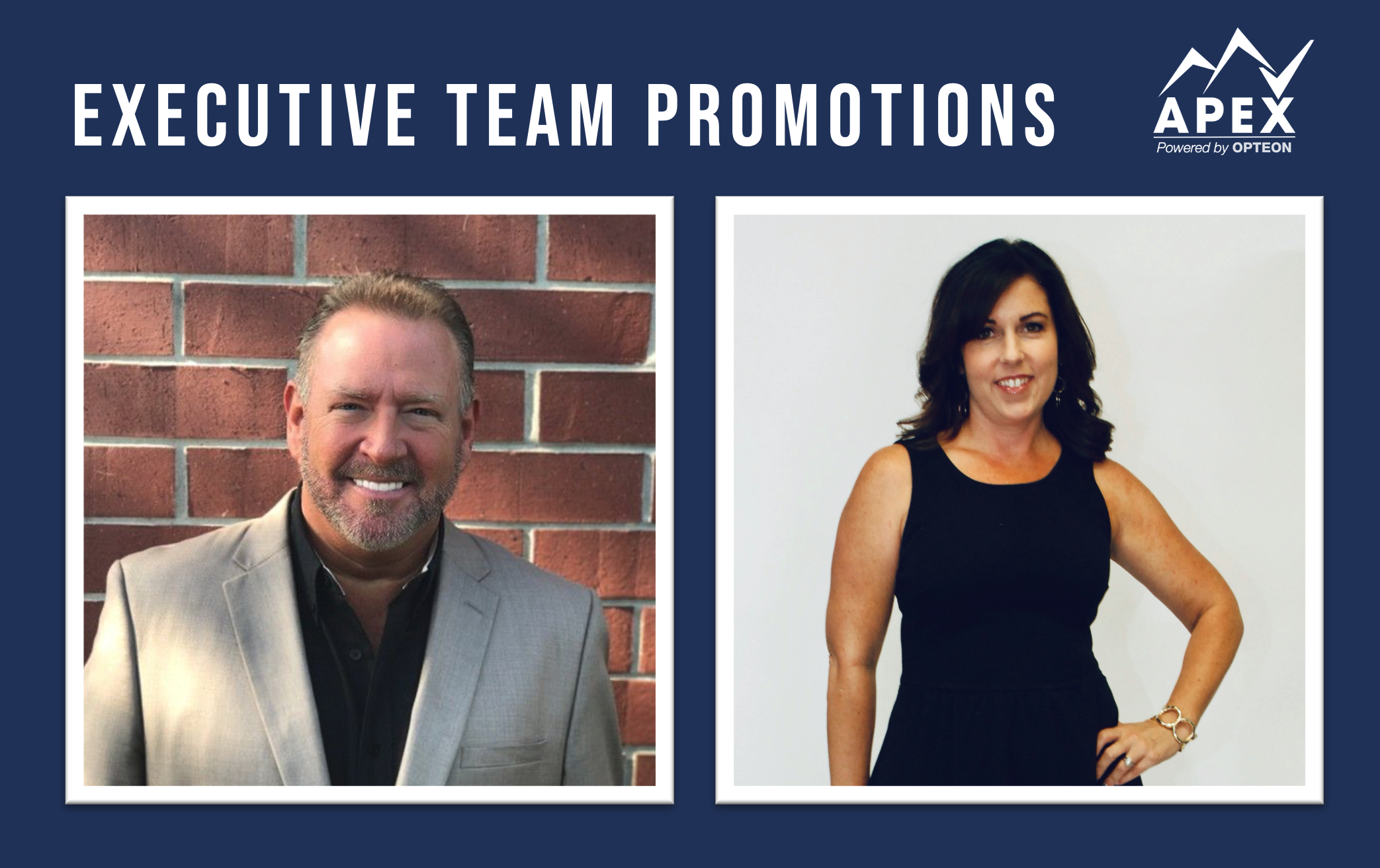 Phoenix, AZ – September 18, 2020 – Apex Appraisal Service (Apex) is thrilled to announce two new promotions: Dave Houseman, EVP of Client Relations, and Jennifer Maccano, EVP of Human Resources. The newest members of Apex's executive leadership team will join Chief Executive Officer, Gabriel Hern, Chief Operations Officer, Greg Bernstein, and Chief Customer Officer, Amber Reyna.
This exciting change comes nearly one year after Apex announced a new strategic partnership with Opteon, Australia and New Zealand's largest independent property advisory firm, to be the exclusive provider of their proprietary property valuation software in the U.S. market.
"Not only has Apex seen immense growth over the last year," said Gabriel Hern (CEO), "but we are also heading into an exciting time for our company in terms of innovation," Hern added. "As we get closer to launching our new technology, it is important that we promote and involve other company leaders to help us navigate current and future growth challenges and opportunities."
Throughout his 38-year career, Houseman has held many management positions, led an appraisal and compliance department, and created, launched and sold an AMC for one of the largest lenders in the nation. Houseman has over a decade of experience in the appraisal industry and is well connected within the mortgage business.
"I am thankful and excited to have been promoted to the executive team at Apex in the role of Executive Vice President of Client Relations," stated Houseman. "My focus moving forward is to create the best possible experience for every Apex customer."
In the past 3 years at Apex, Houseman has provided a proven record of ensuring customers receive an exceptional experience with Apex, especially when dealing with a difficult file or tough situation with an appraiser.
"Apex clients are lucky to have someone like Dave in their corner," said Amber Reyna (CCO). "Not only is he passionate about Apex, Dave cares deeply about every customer and is a true advocate for them."
"Ultimately, Dave will provide customers with unparalleled support and ensure the executive team has a finger on the pulse when it comes our customers," added Hern. "In the same token, Jen will be an advocate for our employees and make sure we have a finger on the pulse when it comes to our people."
"I am honored to be joining the Executive Team," said Jennifer Maccano. "I will always have our team members best interest at heart," she added.
Maccano has more than 15 years of experience in people management, specifically within the Real Estate Appraisal Industry. She specializes in building and sustaining a great company culture with an emphasis on employee coaching, development, and advocacy.
"It is my fundamental belief that happy employees are productive employees. That is what motivates me to help individuals reach their greatest potential," stated Maccano.
"Jennifer has played an instrumental role in the mental health, well-being, and unity of our people," said Greg Bernstein (COO). Maccano helped employees navigate a recent merger with Value Trend Solutions, and then again when Apex partnered with Opteon shortly after. "It was a lot of change all at once," said Bernstein. "Jennifer's expertise and genuine concern for our people helped many through a very challenging time."
On top of the company changes, add COVID-19, working from home, and one of the busiest summers Apex has ever seen. "Our company's emphasis on culture and providing a great place to work has been more important to Apex's executive team than ever before," said Bernstein.
Maccano's presence on the executive team will ensure Apex continues to honor its company values and promote inclusion and diversity as Apex continues to grow. Going forward, Maccano will focus on hiring, retaining and training top talent to support Apex's explosive growth.
Apex | Powered by Opteon
Apex is a leading real estate appraisal management company providing valuation and consulting services in all 50 U.S. states. Apex delivers advanced technology solutions with the personal touch of live customer support and hands-on appraisal reviews from quality experts. Lending partners working with Apex can expect unparalleled customer service, distinctive quality, unwavering integrity, and future innovation to help minimize appraisal-related issues within the loan process. Apex has strategically partnered with Opteon, Australia and New Zealand's largest independent property advisory firm, to be the exclusive provider of their proprietary property valuation software in the U.S. market. Together, they are seeking to revolutionize the appraisal industry in America by offering real-time appraisal reports conducted by certified appraisers from the field.
Media Inquiries:
Amber Reyna
Chief Customer Officer
Apex Appraisal Service
(833) 740-2739 x6000