Managing Credit Risk Exposures in a Residential Building Boom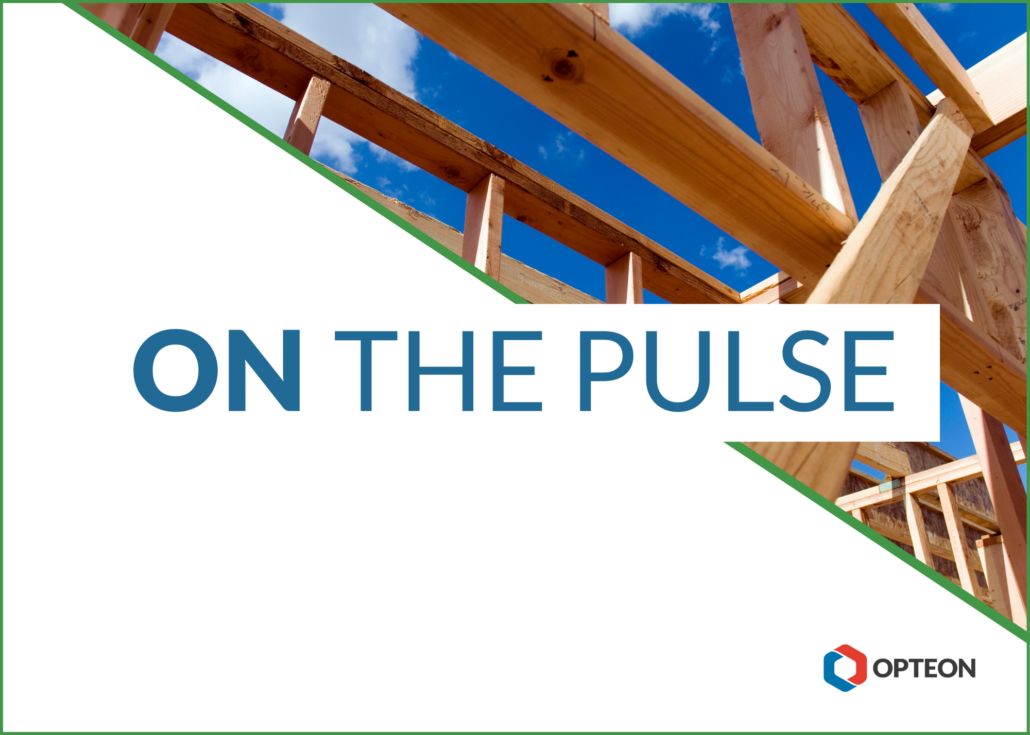 Author
Scott O'Dell - General Manager - Residential
The rate of construction of new homes in Australia has increased significantly over the past two years. According to the Sydney Morning Herald 1, Housing Industry Association figures show about 105,000 residential properties were being built before the pandemic. Since then, that number has risen by roughly 80%.
The demand for new houses has been largely attributed to pandemic-associated factors, such as lockdown experiences, low interest rates, increases in savings and various stimulus packages. Unfortunately, the boom coincided with supply chain issues, high freight costs and resource shortages that have contributed to significant inflationary pressures in the construction sector.
According to the ABS Producer Price Index in March 2022, "over the past twelve months, input prices to house construction rose 15.4%, due to timber, board and joinery (+20.6%) and other metal products (+16.2%)."2
Opteon data also reflects this inflationary trend. When we looked at residential properties in greenfield/growth corridor areas surrounding capital cities over the last two years (Q1 2020 to Q1 2022) we saw an increase in construction costs across the board. As shown in the graph below, the cost of new builds increased by 24% in Sydney, 13% in Melbourne and 33-34% in Brisbane and Perth.
Construction Costs Relative to Baseline, Q1 2020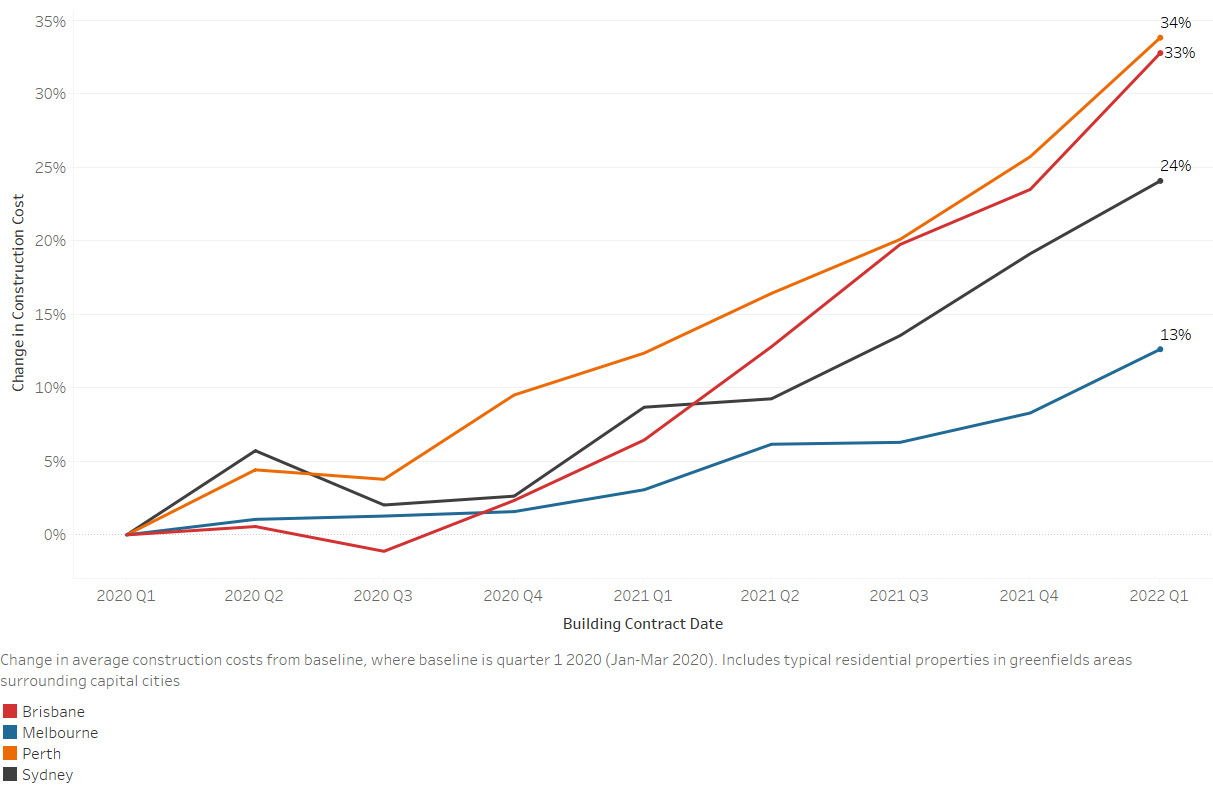 In the face of higher construction costs, demand is predicted to slow.3 However, lending risks are not.
Managing the risks
In the current market, it is particularly important for lenders to manage credit risk exposures with the construction of new residential properties. The biggest risk is funding a home that is not completed, as unfinished projects damage the value of the security. This can happen when builders become insolvent or due to some contractual arrangements.
When providing Construction Reports (also known as To Be Erected Reports) for loans, Opteon helps address these risks. With every report, we assess contractual issues that heighten the risk for lenders, including the inclusion of rise and fall clauses and front-end load payments. We also look for fixed price contracts that builders are unlikely to be able to honour.
To minimise exposures to insolvency risk, we provide lenders access to our regularly updated, dynamic list of builder/developer insolvencies as they take place, which is currently occurring far too often. We also provide dependable progress inspections for lenders as they release funds across the key stages of construction. This provides a high level of risk mitigation during this tumultuous time for the building industry.

General Manager – Residential

DISCLAIMER
This material is produced by Opteon Property Group Pty Ltd. It is intended to provide general information in summary form on valuation related topics, current at the time of first publication. The contents do not constitute advice and should not be relied upon as such. Formal advice should be sought in particular matters. Opteon's valuers are qualified, experienced and certified to provide market value valuations of your property. Opteon does not provide accounting, specialist tax, investment or financial advice.
Liability limited by a scheme approved under Professional Standards Legislation.

[1] https://www.smh.com.au/property/news/the-house-prices-that-are-still-rising-how-inflation-is-blowing-out-building-costs-20220714-p5b1pi.html
[2] https://www.smh.com.au/property/news/the-house-prices-that-are-still-rising-how-inflation-is-blowing-out-building-costs-20220714-p5b1pi.html
[3] https://www.abs.gov.au/statistics/economy/price-indexes-and-inflation/producer-price-indexes-australia/latest-release