The rise of the lifestyle town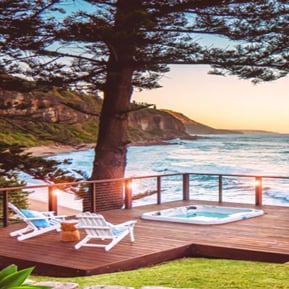 Ahead of Opteon's NSW Market Outlook Webinar (register to attend here), National Residential Director Scott O'Dell looks at the impact of the 2020 pandemic on the property market in Sydney, as the shift toward working from home opens up a plethora of possibilities.
There is no doubt COVID-19 has disrupted our lives in many ways, and we are all waiting with bated breath to see how quickly the vaccine will be rolled out, and with it, a return to the way things once were.
However, if there is one thing that I feel is here to stay, and one thing that a lot of people consider a silver lining, it is the flexibility of being able to work from home. There is even an acronym in common use - WFH - which means it is here to stay.
With this newfound flexibility comes the chance to realise that dream you always had, but never really thought you could achieve while chained to the dreaded peak hour commutes to and from work every day. I am referring to the fantasy of a sea change or tree change, where you find yourself browsing realestate.com.au or Domain looking for beachside shacks or imagining a laid-back lifestyle on a luscious acreage.
As a national valuation firm with strong coverage in regional areas, Opteon is currently witnessing house prices and markets turned upside down as regional towns emerge as desirable options, no longer the poor cousins of their metro counterparts.
A few recent results as well as our anecdotal evidence from our valuers has me wondering if this is the start of a new world order for Australian property prices. We are already seeing house prices decoupling from apartment prices in most major cities; with house prices rising significantly over the last quarter, apartments located in the inner-city ring are still experiencing a hangover due to rental price pressures and lack of immigration/overseas students.
Then there is the rise of the regional 'lifestyle' towns, which are showing as strong results as I have ever seen.
The Coalcliff property that broke the record book
Last month, a Northern Illawarra house in the beachside suburb of Coalcliff, New South Wales (approximately 75km and a two-hour peak-hour drive to the Sydney CBD) went up for auction with strong interest from a predominately Sydney-based buying group.
Coalcliff is a suburb that historically has a mix of permanent residents and holiday home owners from Sydney. It was originally a coal mining town, although the Illawarra Cokeworks closed down in 2013.
The house for sale at 26 Paterson Rd, Coalcliff previously sold for $3.305M in mid-2017, in a similar overall condition as presented for sale this year. The agent initially suggested a buyer's guide between $3.0M to $3.5M. Following strong interest in the property, that figure was upgraded to the $3.7M, possibly even $4M.
The house transacted for $4.715M, a terrific result for the vendors and an area record for a single residential dwelling.
This property is the poster child (among many others) for a market where buyers are clambering over each other to reap the benefits of this new opportunity to live their dream lifestyle away from major cities and work remotely from the comfort of their own home.
This is one of many current examples in regional towns where the old way of thinking about the limits on house prices in regional areas is being smashed. Traditionally, these limits directly correlate to the distance from a major city.
Don't get me wrong - we are witnessing very strong results in major cities as well. However, there is evidence of an underperforming sector: apartments in high density, inner ring suburbs surrounding major cities.
There has become a clear decoupling in the rates of growth between houses and units, evident in the graph below which represents Sydney historical House/Unit prices.
With demand currently far outstripping supply for dwellings, I am of the opinion that the divergent performance of house prices versus unit prices will continue well into the year ahead.
To hear more in relation to the trends we are witnessing on the ground, please contact us or join us at our Opteon Market Outlook Webinar on Wednesday 24 March at 11am. Click here to register.